Location: Valley Senior Living on Columbia & Woodside Village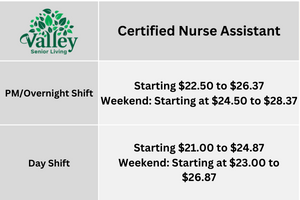 $10,000 Sign-On Bonus for Full Time PM Shifts & $5,000 for Part Time PM Shifts for CNA's
Starting wage is between $21.00 and $28.37
Full, part, and flex time positions available
Day, PM, and Night shifts available
Generous shift differentials
Valley Senior Living offers a Scholarship Program & Tuition Reimbursement to employees that are looking to advance in the nursing field.
Employee Referral Bonuses
Excellent Benefits such as: Paid Time Off, Extended Sick Leave, Health & Dental Insurance, and 401K matching!
EDUCATION/EXPERIENCE
Required:
Able to perform basic mathematical equations.
LICENSE/CERTIFICATION
Required:
Certified within the state of ND as a Certified Nursing Assistant or must have completed a ND state approved training course and be certified as a CNA in North Dakota within 120 days of date of hire.
FUNCTIONS
Understand and adhere to Valley Senior Living's Corporate Compliance Standards, Code of Conduct, and all Department/Personnel policies and procedures.
Understand and follow basic concepts of infection control, including use of universal precautions. Consistently practices good hand hygiene techniques.
Maintain safety standards as established by Valley Senior Living, including use of safe operating procedures. Be familiar with and follow fire and disaster procedures. Report all incidents or safety hazards promptly to supervisor. Respond to choking situation by using standard, accepted procedures, use safety devices including gait belt and lifting equipment properly.
Encourage and support resident in making personal choices, to accommodate individual needs and encourage independence. Encourage residents to function at highest practicable level.
Assist resident as needed in all phases of activities of daily living: eating, drinking, oral hygiene, bathing, dressing, grooming, and toileting. Under direction of the Charge Nurse, follow the established plan of care for each resident. Turn, reposition, and transfer resident as indicated. Measure vital signs, weights, and Intake and Output accurately. Assess resident for condition changes (i.e.: difficulty breathing, break in skin) and report to Charge Nurse.
Communicate effectively with resident and recognize behavior patterns and react in calm nonjudgmental manner. Encourage residents who choose to participate in activities program.
Understand Cognitive (mental) loss and assist resident to function at highest possible level. Provide a safe environment for the confused resident including use of alarm systems.
Stress abilities of resident rather than what they cannot do. Perform Range of Motion, transfers, and assist with ambulation following established procedures. Follow plan of care for resident regarding adaptive equipment, postural support, support hose, Bowel and Bladder retraining, etc.
Understand and follow federal and state Residents Rights including providing privacy, confidentiality, and promoting dignity.
Record and report all pertinent information to Charge Nurse and on CNA Documentation form, flowsheets, etc., using black ink and established procedures.
Interact effectively with resident, visitors, and all members of the health care team.
Maintain the resident's physical environment including bed making, and cleaning and straightening of environment as desired by resident.
Respond to call lights in a prompt and courteous manner.
Understand the "Right to Know" regulation.
Provide post‑mortem care to resident.
Adapt the physical environment in response to resident's individual needs (light, air, temperature, noise, etc.)
Assist resident to express his or her spirituality.
Assist resident to maintain sexual identity (cosmetics, handholding, privacy, etc.)
Assist and direct visitors as directed.
Possess working knowledge of the telephone system and intercom system.
Our Locations
Valley Senior Living on Columbia
Valley Senior Living on 42nd (Woodside Village, Wheatland Terrace, Town Square)
Valley Senior Living on Cherry (Tufte Manor)
If you have any questions, please contact Human Resources at 701.787.7829.
Valley Senior Living is an Equal Opportunity Employer